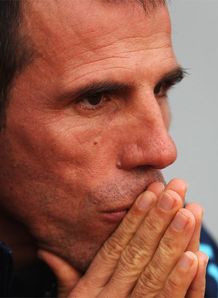 West Ham may not have won any of their last seven league games, but I don't think the supporters should be too concerned about the start that Gianfranco Zola has made to life at Upton Park.
He is one of those young guys determined to make his way in the coaching game; he was looking for somebody to give him a chance and West Ham did that. He knows it's a big job and he knows there isn't a lot of money available to him - but what he does have is an awful lot of players to choose from. He now has to find out what his best team is, what his best system is and go from there.
That is not something you can do overnight. This is not like Harry Redknapp walking into Spurs; Harry's been in this league for a long time and will have known Tottenham's players and formed an opinion on them before he got there.
For Gianfranco things are a little different. He's been out of the English game for a little while now and I'm sure his knowledge of West Ham will have been limited in that respect. Therefore it's going to take him a little longer.
He's learning as he goes along and I don't think he'd have a problem with me saying that. Obviously he has the experience of being a top-level footballer and he will have learned a lot coaching the Italian Under-21s, but he will also know that this is a totally different ball game. I still believe the Premier League is the toughest both to play in and to manage in and he is finding that out the hard way.
He still needs to figure out which players he wants to keep and which he wants to dispose of. We might see some movement in and out of West Ham during the transfer window and that will be testimony to what Gianfranco has learned in the period he has been in the job.
Deserves
I think Gianfranco deserves time to go through that process. People might say his appointment was a risk, but there are 10 teams who could potentially be involved in a relegation battle this season and you could argue that keeping any of those managers is risky.
I just believe that if they were confident in him when they gave him the job then they should leave the job with him, even if he has to spend a year learning the ropes. That is part and parcel of giving a young manager the job and if they give him time to mature he will be much stronger in the second season.
Would I be panicking if I was a West Ham fan after their poor run of form? Absolutely not. The one thing Gianfranco Zola knows is that he has quality players in his squad.
Perhaps they're not always fit - as is the case with the likes of Dean Ashton and Kieron Dyer - and that doesn't help, but I still think there's enough good players there for them not to worry too much about relegation.
Of course, he needs to get his tactics right and we'll see him experimenting with the players he has over the next few months. He played a 4-3-3 against Portsmouth last week, but I'm sure we'd see him adopting a different system if he had the likes of Dyer and Ashton available.
I guess there will always be pressure on him to play attacking football because West Ham was built on the tradition of giving their fans entertainment. The fans want to see their team playing in a certain way and if that's the case then they've got the right man to do that.
He was a complete footballer in his playing days and if he coaches the game in the same way as he played it, then West Ham fans can have no worries about their team not playing wonderful, attractive football.
Concede
One area that needs to be addressed is the defence. To be leading 1-0 against Everton with eight minutes left and to concede three goals is simply not good enough.
They've had to chop and change due to injuries and I don't think he's had his first-choice back four playing together very often. It is very important for any team to have stability in that area and the likes of Manchester United and Chelsea have built their success around that.
Gianfranco hasn't had that yet and that will limit his progress. I would like to think that will come with time because he'll know how important it is not to concede cheap and easy goals in the Premier League.
It was interesting when he came in that he said he wanted his players to always have smiles on their faces. Well, results dictate whether you're smiling or not in this game and it has been noticeable in the last few weeks that there's been a lot more seriousness about Gianfranco Zola.
That's because he has already felt the huge pressures of managing a Premier League club. Every team has an expectation of being the best and West Ham are no different. In fact, the pressure is perhaps even greater at Upton Park because so many people in the written press support the club and keep the team in the spotlight.
But what I would say to those West Ham fans who are getting a little bit twitchy is this - let little Zola get on with things. Let him learn more about the job, let him learn more about West Ham and let the players learn what he wants from them.
Give him a January transfer window and a close season to shape the squad in the way he wants it - and then start to judge the man next year.